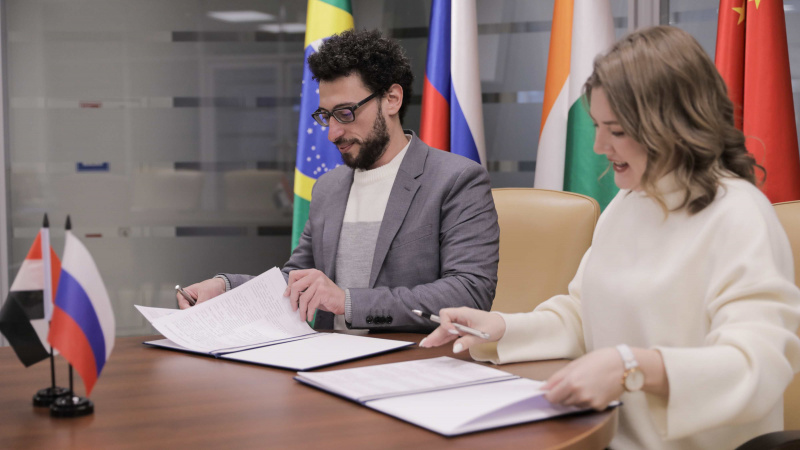 Read Time:
1 Minute, 59 Second
On Tuesday, 10 October, TV BRICS and Daily News Egypt, Egypt's leading news agency, signed a cooperation agreement.
"We are excited to partner with TV BRICS, a leading media platform for the BRICS countries. We are confident that this partnership with TV BRICS will be mutually beneficial. This MoU will allow us to share our news and information with a wider audience and to learn from TV BRICS' expertise in covering the BRICS countries. This MoU is a testament to our commitment to providing our readers and viewers with the most comprehensive and informative news and analysis. We look forward to working closely with TV BRICS to achieve this goal," said Mohamed Samir Khedr, Executive Editor of Daily News Egypt.
For her part, Anna Lisina, editor-in-chief of the TV BRICS website, noted the prospects for cooperation between the two media organisations.
"From 1 January 2024, new countries, namely Argentina, Egypt, Ethiopia, Iran, Saudi Arabia and the United Arab Emirates, are invited to join the BRICS association. Egypt is one of the largest economies in Africa and the Middle East. The state is also a member of the African Union. And I am sure that joining BRICS opens a lot of new opportunities for cooperation with BRICS+ countries. And we at TV BRICS will contribute to making the agenda of our new partner known to an international audience" Anna Lisina Editor-in-chief of the TV BRICS website.
We are ready to adapt Daily News Egypt content into Russian, Portuguese, Chinese, and distribute news and video materials through our network of partners, of which there are already more than 60. We plan to inform the international reader about developments in Egypt by providing information from local journalists," she added.
Daily News Egypt is a daily Egyptian newspaper in English, founded in 2005 and relaunched in June 2012. News on politics, business, opinion, lifestyle, culture, as well as investigative stories, travel articles and interviews.
The results of the last BRICS summit in Johannesburg (South Africa) led to the decision to invite six new countries, including Egypt, to join the association. Egypt will officially join the BRICS grouping on 1 January 2024.
As a TVBrics partner DUrbanTV looks forward to developing relations with Egypt media as a result of this collaboration.
A report by TVBrics : https://tvbrics.com/en/news/tv-brics-expands-cooperation-with-media-outlets-in-africa/